Financial Advisory Careers
---
Through our financial advisory business, Lazard advises clients around the world on strategic and financial matters. We value the rich diversity that comes from blending local perspective with our global network. Your input will affect the outcome.
As a member of our team, you will collaborate with some of the industry's most renowned and accomplished professionals, gaining first-hand experience in handling complex, transformational, and high-profile deals in the market.
Lazard provides interns and experienced professionals with an exceptional opportunity to collaborate within small deal teams on strategic projects and other assignments. This close-knit working environment provides significant exposure to senior bankers and clients, fostering professional growth and development.
See all of our career opportunities: Experienced Professionals and Internships
Lazard's Internship program offers a unique experience for students interested in starting their career in Investment Banking.
By being an integral part of a dynamic team of talented professionals you will gain a better understanding of the nature and culture of our firm. It will allow you to experience the role of an Analyst, while observing and supporting colleagues operating at every level in our business.
Our internship program has been designed to incorporate as many aspects of the role of an Analyst as possible, including involvement on active projects, with opportunities for increased responsibility, accountability, and visibility on small deal teams. Specifically, our aim for your internship with Lazard is for you to: 
Receive firsthand, in-depth knowledge of the business
Gain practical experience of the type of work you would complete as an Analyst
Experience Lazard's culture and working style
Network with bankers of all levels of experience
Qualifications and Skills
Recently graduated or in the final stages of studies
Top academic performance in Economics, Finance, or a related discipline
Fluency in Dutch strongly preferred
Fluency in English required
Global perspective
Exceptional analytical and communication skills
Affinity for teamwork
Energy, commitment, and enthusiasm
Commercial and creative talent
Previous experience in corporate finance, appreciated but not a requirement
Throughout the year, we welcome students for 3-month internships.
Intern Recruitment Process – Amsterdam: Stage-by-Stage Guide
The recruitment process has been designed to test and challenge you, as well as to give you the opportunity to find out more about Lazard. It also aims to give you the chance to learn more about our people and their careers and work at Lazard.  As you progress through the process you will also have the opportunity to meet people within the business with various backgrounds and experience. Please take the time to read our website as this will give you a good idea about the types of tasks you will be expected to complete and the types of strengths, skills, and behaviors you will need to consistently demonstrate on a regular basis. 
Besides the overview chart of our recruitment process you will find information below on each of our recruitment stages.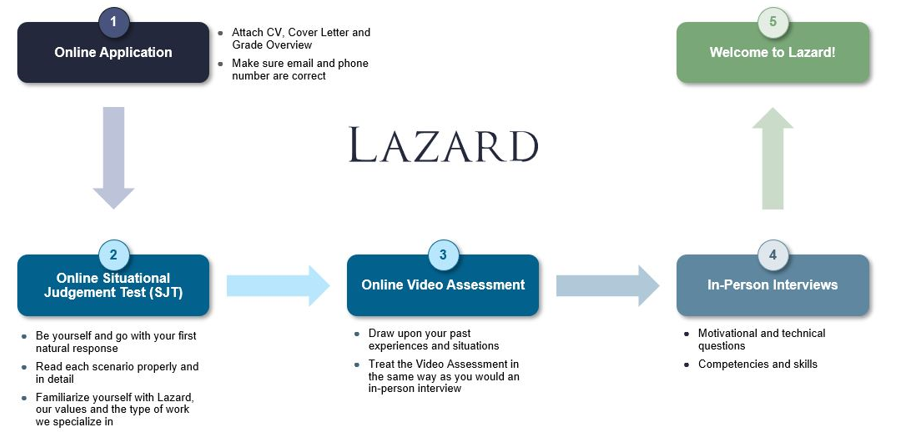 We ask that you complete an online profile through Oleeo, which includes questions relating to educational background, work experience, and language fluency. Please attach your CV, Cover Letter, and Grade Transcripts. Ensure that your phone number and email address are correct as this is how you'll be contacted. Also check your junk/spam folder given that application updates will be sent via email. You can update your Oleeo profile at any given time. We endeavor to process your application in a timely manner. Candidates who pass our pre-screening questions will be asked to complete an online Situational Judgement Test (SJT).
The Situational Judgement Test presents you with different scenarios that you might face in the role at Lazard and asks you to decide on the most effective and the least effective course of action. The SJT has been specifically designed to provide you with a realistic preview of what it is like to work at Lazard and assesses:
Your natural ability to analyze situations and make decisions

Your ability to think about the implications of your actions and weigh up the best course of action

Your approach to working, collaborating, and communicating with others

Your ability to work quickly through specific job-related problems
To work through the SJT as effectively as possible, you should try to:
Be yourself and go with your first natural response. We want to understand who you are and what value you will add to Lazard. Please try not to think about the scenarios for too long; it is more effective to read the scenario and go with your first reaction or natural response to what you think is the most effective and least effective course of action.

Read each scenario properly and in detail. Please take time to read each scenario properly, ensuring that you understand the task or the situation to be able to give your natural response. If you rush through the questions too quickly, you may misinterpret something or misunderstand the scenario posed to you and therefore provide an incorrect answer.

Familiarize yourself with Lazard, our values, and the type of work we specialize in. You can't practice for a Situational Judgement Test as it assesses your judgement and decision-making skills, and your fit for our specific organization and culture. However, reading our website, familiarizing yourself with what we do and the role you have applied for will help you complete the test. You should try to make sure you have done some background reading and preparation on what it is like to work for Lazard and who we are as an organization before taking the test.
The test should take between 20-30 minutes to complete, and it is not timed. Please ensure you have a stable internet connection before you get started. You will be given 7 days to complete both the SJT and Video Assessment.
Please note, if you have already passed the SJT or Video Assessment as part of your application for another Lazard office in the last six months, you do not need to retake the test. Email our team at recruiting.amsterdam@lazard.com to further advise on how your application can be progressed. However, if you have already failed the SJT, you can only retake the test after a period of four months.
If you are successful in passing the SJT, you will be invited to a Video Assessment. The Video Assessment should not take longer than 15-20 minutes (excluding preparation time) and will focus on some interview style questions around your motivation, cultural fit and interest in our organization and the industry.
How to work through the Video Assessment effectively:
Draw upon your past experiences and situations where you have best demonstrated competencies
Take full advantage of interview workshops that your university career services center may run, as this will give you invaluable practice and feedback
Make sure you are in a quiet room where you will be free from background noise, distractions, or interruptions
Treat the Video Assessment in the same way as you would an in-person interview by presenting yourself smartly
Please be aware that given the volume of applications we review, it may take a few weeks after completing the Video Assessment before receiving an update on your application progress
Candidates who are shortlisted from the Video Assessment will be invited to in-person interviews with our bankers. We are just as interested in your personality and individuality as we are about your academic and extra-curricular achievements. Interviews also cover a range of different competencies, questions around Lazard, the financial markets, world affairs and some technical financial questions.
If you have any questions about the graduate/intern recruitment process, please send us an email.
FAQs
If you are unable to find opportunities for Lazard Amsterdam, applications have yet to be opened. Given that we publish opportunities on a regular basis, we strongly recommend visiting our Careers Section on the Lazard website. For questions regarding the recruitment process, please send an email to recruiting.amsterdam@lazard.com.
We post our vacancies for the year ahead in September of the previous year. However, we usually post vacancies in Q1 as well.
There is no ideal time or any time is ideal. Our internship calendar wants to accommodate your needs/preferences by providing opportunities all year-round. Successful interns may be offered an Analyst position.